 
Manker U11 1050lumen, 252m Throw, Rechargeable
1050lumen, 252m Throw, USB rechargeable flashlight
Spend
R500.00
more and get Free Shipping!
Specification & feature:
Use CREE XPL LED
Max 1050 lumens output
Power by 1x 18650 or 2x 3v CR123A Battery (18650 Battery Included)
Working voltage: 2.8-6.4V
Peak beam density reach 16000cd
Beam distance: 252 meters
Waterproof standard: IPX6
Impact resist: 1.5M
Extremely efficient constant current drive
Max run time: 45 days
Direct access to ultra low moonlight/firefly mode when OFF
Intelligence Lithium battery charge design (USB charging port )
Low battery Warning (Blue light inside switch will flicker when battery less than 20%)
Made from aerospace grade aluminum bar
Titanium coated stainless steel pocket clip
Tempered double coated optical lens
Tail stand can serve as lamp
Size: Length 105mm x Head Dia.31mm x Body dia. 25.4mm
Weight: 82g (without battery)
Accessory: Lanyard *1,USB charging cable *1, spare O-ing *1, pocket clip *1
Brightness Levels & runtime:
- Moonlight: 1-10lm, 170hrs
- Middle1: 100lm 15.5hrs
- Middle2: 260lm 6hrs
- High: 560lm 3hrs
- Turbo 1050lm-560lm 3min - 2.5hrs
- Strobe 1050lm
Operation: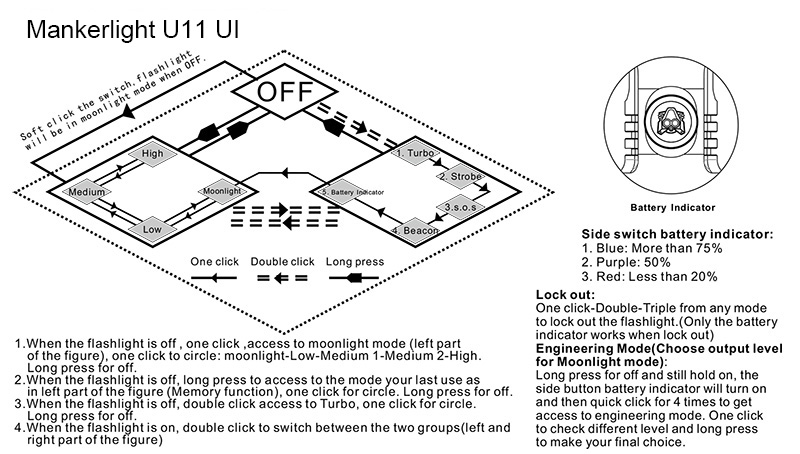 1. When the flashlight is off, one click, access to moonlight mode (left part of the figure), one click to circle: moonlight - low - Medium - High. Long press for off.
2. When the flashlight is off, long press to acess to the mode your last use as in left part of the figure (Memory function), one click for circle. Long press for off.
3. When the flashlight is off, double click access to Turbo, one click for circle. Long press for off.
4. When the flashlight is on, double click to switch between the two groups (left and right part of the figure)
Battery Indicator:
1. Blue: More than 75%
2. Purple: 50%
3. Red: Less than 20%
Lock out:
One click - double - triple from any mode to lock out the flashlight. (Only the battery indicator works when lock out)
Engineering Mode (Choose output level for moonlight mode):
Long press for off and still hold on, the side button battery indicator will turn on and then quick click for 4 times to get access to engineering mode. One click to check different level and long press to make your final choice.
Manker U11 old version Reviews:
YouTube Video: https://youtu.be/KsxByB5mu4I
Forum: http://www.candlepowerforums.com/vb/showthread.php?418079-Review-of-Manker-Quinlan-U11-XP-L-18650-Beamshot-Runtime-amp-Pics
Forum: http://budgetlightforum.com/node/45173
Forum(Germany): http://www.taschenlampen-forum.de/threads/review-manker-u11-edc-mit-interner-ladefunktion.46038/
Data sheet
Lumen

1050lm

Throw

252m

Max intensity

16000cd

Waterproof Rating

IPX6

LED

CREE XPL LED

Dimensions

Length 105mm x Head Dia.31mm x Body dia. 25.4mm

Weight

82g (without battery)

Compatible Batteries

1x 18650 or 2x 3v CR123A Battery (18650 Battery Included)

Impact Rating

1.5M

Included Accessories

Lanyard *1,USB charging cable *1, spare O-ing *1, pocket clip *1, 18650 battery*1

Battery Life

170hrs